31 Marzo 2012, Stardust – Villa Francesca, San Donato in Poggio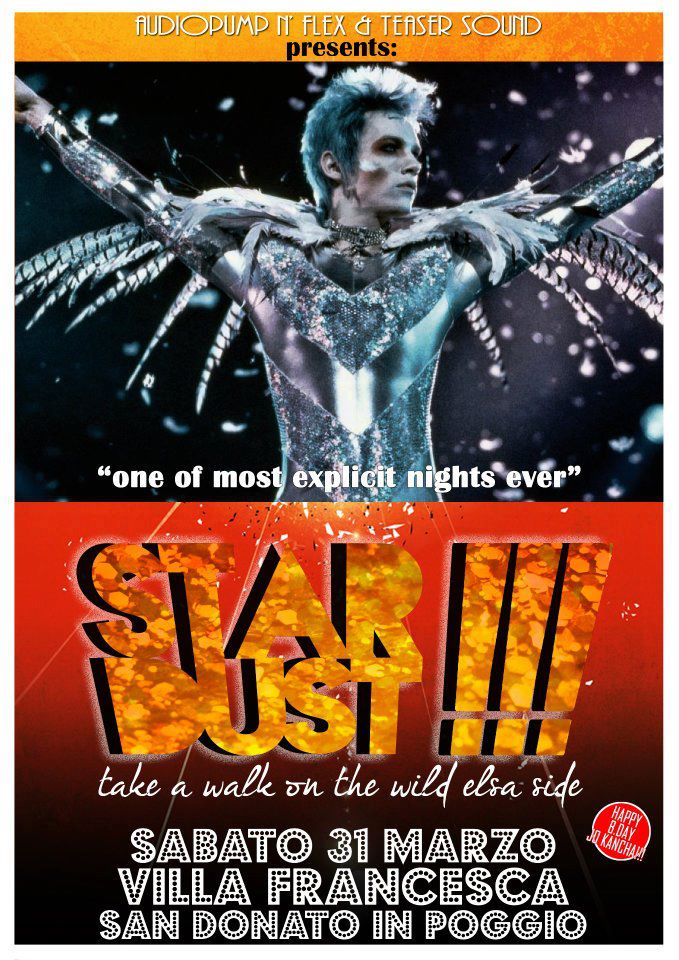 SABATO 31 MARZO 2012
Villa Francesca, S.Donato in Poggio
AudioPump'n'Flex & TeaserSound presentano:
STARDUST!!!
(Take a walk on the wild elsa side)
-Glam Rock Party-
>>> HAPPY B.DAY JO KANCHA!!!!<<<
h 21.30
Proiezione del film "Velvet Goldmine"
(un film di Todd haynes, 1998)
h 23.30
THE D.I.V.A. !!!
(the Duke, the Idiot, The Vicious Altogether)
GLAM ROCK BAND LIVE CONCERT
Dalle 24.30:
The Electric Ballroom:
– PIKO & DEZO _TeaserSound_
– ARKANOIDZ _AudioPump'n'Flex_
– SAM WOULD _AudioPump'n'Flex_
– F.SALVADORI _TeaserSound_
– GIAMPIERSONIC _TeaserSound_
Glam Rock Arena:
– ROCKVILLE DJs
– BRONSKI _AudioPump'n'Flex_
– SKEMP _AudioPump'n'Flex_
– LORINO _ UFM
Alle percussioni JO KANCHA >>>The Birthday Boy<<<
Durante la serata >> ART PERFORMANCE BY MISS CROCODILE AND WHO!!!
ANDREA MONTAGNANI Visual Show
Ricevimento a tema GLAM ROCK :
Suggeriamo ai gentili ospiti e alle gentil dame
un tocco di riguardo, originalita' e distinzione.
L'eccentricita' e', come sempre, ben gradita.
PARTY PRIVATO, INGRESSO SOLO CON INVITO
PUOI RICHIEDERE IL TUO INVITO A:
# OZshop, via XX Settembre, Poggibonsi;
# Salone The Street, via Redipuglia 90, Poggibonsi;
# L'Abordage, via Gallurì 66, Poggibonsi;
# OZshop 2, via Duca D'Aosta 22, Castelfiorentino;
# Cherrylips pub, via Masini 101, Castelfiorentino;
# Jeka Winebar, P.zza S.Caterina, Colle Val d'Elsa;
# Echoes Winebar, San Gimignano;
o al 3482528780 Giova o al 3490630088 Jò Kancha
>>> FOTO: https://www.facebook.com/pg/audiopumpnflex/photos/?tab=album&album_id=10150616255486478